Details

December 6, 2017
South Texas Economic Outlook Luncheon
Flint Hills Resources Cafeteria, Corpus Christi

Please Note Road Construction Information Below*


ACIT South Texas Economic Outlook Luncheon
Wednesday, December 6, 2017
11:30 am - 1:30 pm
LOCATION
Flint Hills Resources Cafeteria / Learning & Performance Center
1925 Tuloso Road
Corpus Christi, TX 78409
(Parking and cafeteria entrance are located in back of building.)
*Road construction along Tuloso Road is in its 2nd phase. The direction along Tuloso has changed.
You can only travel North along Tuloso from Leopard to IH37 Frontage.
To access the FHR Cafeteria/ Learning & Performance Center, you need to take Suntide Road
or Clarkwood Road as alternative Routes. Please exercise caution while driving down Tuloso Road.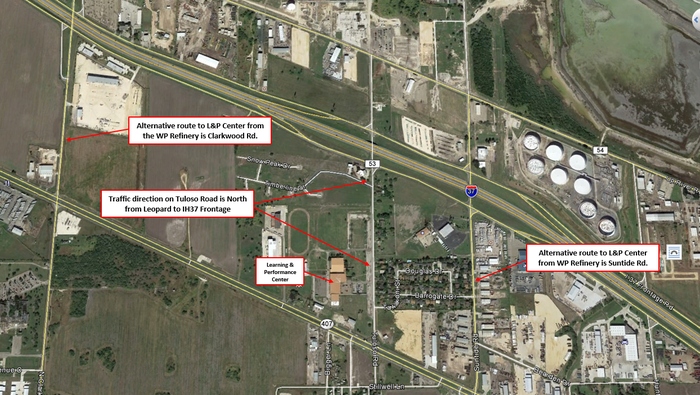 AGENDA
11:00 am - Registration
11:30 am - Lunch
11:45 am - Program

PROGRAM DETAILS
Sector presentations on current activities and new projects.
Port of Corpus Christi on current and projected economic activities.
PRESENTERS
Chemical Sector: Rick Ritter (OxyChem, Plant Manager)
Refining Sector: Adrian Davidson (CITGO, Strategic Planning Manager)
Rig Construction Sector: Fuat Sezer (Kiewit Offshore Services, President)
Port of Corpus Christi: Jarl Pedersen (Port of CC, Chief Commercial Officer)
REGISTRATION
Member (members of ACIT, TCC and PICC) - $10
Non-Member - $25
Pre-registration for this event has ended. Onsite registration will be available until we reach capacity.
If you plan on registering onsite, please Print a Registration Form and fill out to bring with you.


Special Thanks to Our Sponsors!
Meeting Sponsors
BakerRisk
Braun Intertec
Core Engineering
Core Occupational Health
Hargrove Engineers + Constructors
Lewis-Goetz & Company
Mirage Industrial Group
Repcon
Systran
Thorpe Plant Services
Exhibit Sponsors
beAed
Draeger
Holes Inc.
Olivarri & Associates
Tolunay-Wong Engineers
TriStar Global Energy Solutions
Turner Industries Group
Vallen Distribution
Door Prize Sponsors
Apache Industrial Services
BakerRisk
Hanson Professional Services
Mirage Industrial Group
Mobile Modular Management
NiSoft
Primoris Industrial Contractors
Satellite Shelters
Seatex
Sprint Safety
Thorpe Plant Services
Tolunay-Wong Engineers
TriStar Global Energy Solutions
US FUSION
USA Debusk
Versa Integrity Group
Facility Sponsor
Flint Hills Resources
For more information, please contact Annette Mitrosz
at 512-646-6410 or Annette@acit.org
or Lorraine McCain at 361-299-7777 or Lorraine.Mccain@dnow.com
2017-12-06
2017-12-06
America/Detroit
South Texas Economic Outlook Luncheon
 Please Note Road Construction Information Below* ACIT South Texas Economic Outlook LuncheonWednesday, December 6, 201711:30 am - 1:30 pm LOCATIONFlint Hills Resources Cafeteria / Learning & Performance Center1925 Tuloso RoadCorpus Christi, TX 78409(Parking and cafeteria entrance are located in back of building.)*Road construction along Tuloso Road is in its 2nd phase. The direction along Tuloso has changed.You can only travel North along Tuloso from Leopard to IH37 Frontage.To access the FHR Cafeteria/ Learning & Performance Center, you need to take Suntide Roador Clarkwood Road as alternative Routes. Please exercise caution while driving down Tuloso Road. AGENDA11:00 am - Registration11:30 am - Lunch11:45 am - ProgramPROGRAM DETAILSSector presentations on current activities and new projects.Port of Corpus Christi on current and projected economic activities. PRESENTERSChemical Sector: Rick Ritter (OxyChem, Plant Manager)Refining Sector: Adrian Davidson (CITGO, Strategic Planning Manager)Rig Construction Sector: Fuat Sezer (Kiewit Offshore Services, President)Port of Corpus Christi: Jarl Pedersen (Port of CC, Chief Commercial Officer) REGISTRATIONMember (members of ACIT, TCC and PICC) - $10Non-Member - $25Pre-registration for this event has ended. Onsite registration will be available until we reach capacity.If you plan on registering onsite, please Print a Registration Form and fill out to bring with you. Special Thanks to Our Sponsors! Meeting SponsorsBakerRiskBraun IntertecCore EngineeringCore Occupational HealthHargrove Engineers + ConstructorsLewis-Goetz & CompanyMirage Industrial GroupRepconSystranThorpe Plant Services Exhibit SponsorsbeAedDraegerHoles Inc.Olivarri & AssociatesTolunay-Wong EngineersTriStar Global Energy SolutionsTurner Industries GroupVallen Distribution Door Prize SponsorsApache Industrial ServicesBakerRiskHanson Professional ServicesMirage Industrial GroupMobile Modular ManagementNiSoftPrimoris Industrial ContractorsSatellite SheltersSeatexSprint SafetyThorpe Plant ServicesTolunay-Wong EngineersTriStar Global Energy SolutionsUS FUSIONUSA DebuskVersa Integrity Group Facility SponsorFlint Hills Resources  For more information, please contact Annette Mitrosz at 512-646-6410 or Annette@acit.orgor Lorraine McCain at 361-299-7777 or Lorraine.Mccain@dnow.com  
Flint Hills Resources Cafeteria, Corpus Christi
---